The Lauren Atwill Mystery Series – Book 4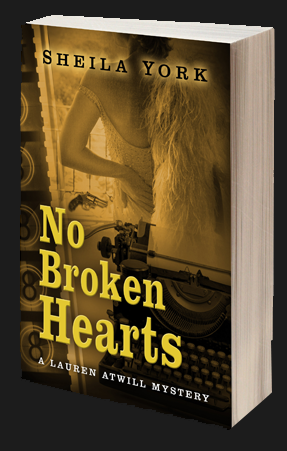 Promised her first screen credit in years by Marathon Studios, script doctor Lauren Atwill is promptly loaned out to second-tier Epic Pictures. And she's not one bit happy about it.
Have the superstitious Marathon bosses been spooked by the grapevine gossip that bodies start to fall whenever Lauren Atwill signs on to a picture?
Her first Epic assignment electrifies her: Bring a thrilling, scandalous novel to the screen, a sensational story of betrayal, greed, corruption, and a vicious killing. Yes, things are looking up. Until fiction turns into real life.
Lauren finds a beautiful young actress brutally murdered, and she begins to wonder if she really is a harbinger of disaster. Then she discovers just how far the studio and even the police will go to cover up the killing and protect a star. If she won't lie, her career is over. And maybe her life.
In Hollywood, telling the truth is the most dangerous thing a woman can do.
Hear Sheila Read Chapter 1:
Hear Sheila Read Chapter 2:
"A new Lauren Atwill mystery? Count me in! [Sheila York] transports me to a time and place I wish I knew firsthand but can always read about in her finely wrought mysteries. NO BROKEN HEARTS is no exception. A strong woman living in a man's world, Lauren Atwill knows murder and will stop at nothing to get the answers she needs and deserves…in spite of the costs."
"NO BROKEN HEARTS finds screenwriter Lauren Atwill solving mysteries in the thick of 1940s Hollywood … highlighted by [Sheila York's] very real characters and an excellent sense of place. The pace is breakneck, the plot twists unexpected. If you love a terrific mystery, York is a must read!"
From the Fans
"The characters are wonderfully drawn. Even the minor characters have depth. Especially if they turn out to not be so minor. Read this book. You'll love it."
"What a great read. I loved the snappy dialogue and the evocation of Hollywood in the forties where threats of accusations of dialogue, the dead on descriptions of Hollywood parties and even the crummy bungalows where writers type out screenplays. The action is crisp, believable and the dialogue like a great movie of the forties with a young Lauren Bacall playing our heroine. Can't wait for the next one."
"Great mystery with intelligent sass and class. Talk about believable characters, each drew me into their lives. This story reminded me of the Bogart movies I had seen many years ago, straightforward and speaking a mile a minute with a stern and serious look on their faces. Of course I'm picturing this in my head when I'd immersed myself in the tale. Excellent plot and well written, obviously since I read this story too fast because I wanted to know. Great dialogue with a sleuth of questions, twist & turns and surprises. Thank you for keeping me entertained."