The Lauren Atwill Mystery Series – Book 1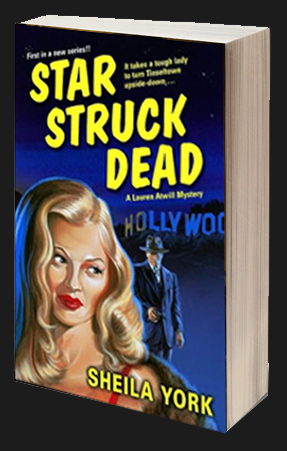 Daphne du Maurier Award Winner
In 1946 Hollywood, the stars were always shining, the streets were paved with possibilities, and the most dangerous thing a man could do was uncover the grime behind the glitz and glamour…But a woman might just get away with it.
When talented screenwriter Lauren Atwill wakes up in the hospital with no memory of how she got there, it's more than enough to make her nervous. All she remembers is driving home from a hot Hollywood night spot. Before she can put the pieces of her shattered memory together, she's approached by a stranger with incriminating — and compromising — pictures of her. It's blackmail, pure and simple.
With nowhere else to turn, Lauren hires tough LA private investigator Peter Winslow, whom she finds far more intriguing than she planned, and who just might be hiding some secrets of his own. Now with the high-profile marriage of her best friend at stake along with her own reputation, Lauren will have to think fast and move faster to come up with an ending for this script that doesn't spell THE END for her.
Hear Sheila Read Chapter 1:
"A strongly drawn heroine, a rich atmosphere and a dashing hero….A strong setting, interesting characters and a fun, quick-grabbing plot all make for a terrific introduction to the world of Lauren Atwill."
"…Lauren is a snappy, intelligent heroine…This is one for the keeper shelf."
"A real treat, Star Struck Dead offers a stylish glimpse into the grit and glamour of 1940s Hollywood."
"I loved Star Struck Dead. I was immediately transported through time and into the world of Lauren Atwill…Star Struck Dead is exceptional."
From the Fans
"I loved this book when it first came out and it was every bit as good on the second reading. It draws you in and keeps you interested from the first page to the end. It's clear that the author has spent a lot of time writing films. The scenery is described so well it comes alive with the characters. I happen to love noir and this book is a wonderful example. I am not a good enough writer to be able to describe why I liked this book so much, I just did… It draws you in and keeps you interested. Good plot, good characters, good historical setting, just plain good."
 

"…the plot is impeccable; the characters for the most part not only vivid and interesting, but likeable; and the atmosphere created makes you feel like you've gone back in time and space to Hollywood in the late 40s. The quality of writing is excellent — it's a very literate book. This is the kind of mystery that creates a mood and that you can hardly wait to get back to. I look forward to reading the next in the series. I expect this book to pick up some awards, like an Edgar."