The Lauren Atwill Mystery Series – Book 3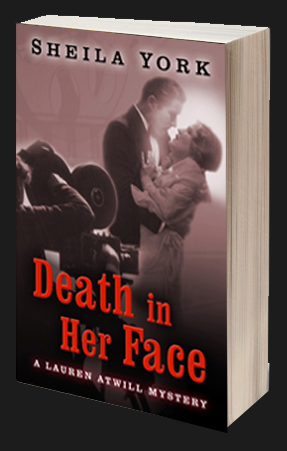 Mala Demara, sultry European beauty and box-office goldmine, has vanished; Mickey Triton, her gangster boyfriend, lies dead in the burned-out hulk of their secret love nest, shot through the head.
Marathon Studios needs help, fast, and they know just where to get it: Screenwriter Lauren Atwill and her lover, P.I. Peter Winslow.
Peter has to find Mala. If the police discover she was Triton's mistress and she's still missing, the publicity will destroy her even if she's innocent.
Lauren starts rewriting the script for another star should Mala be a killer in more than looks.
But Lauren's first night on the lot, she discovers another man shot dead, who turns out to be an undercover agent. Now, everyone wants Lauren out of the way. Let the men handle it. Fat chance.
She'll follow a tangled trail of betrayal, secrets, greed and murder. She'll face down the FBI, who can crush her career, and a vicious mobster who demands Peter find Triton's killer or else he and Lauren will never work in Hollywood again. Or breathe.
Hear Sheila Read Chapter 1:
"Death in Her Face takes you right back to Hollywood's Golden Age–the glamor, the intrigue, the backbiting, but for me the best part was the dialogue–as if it came right out of a movie script of the time, the characters that I care about, and the twisty, suspenseful plot. All Excellent."
From the Fans
"A twisty, surprising trip back to old Hollywood – the author has clearly done her research on 1940s high life in the Malibu Colony, psychic advisors to the stars, and Production Code censorship in that era. In this outing #3, we get more back-story on Lauren Atwill (heiress, screen writer and amateur sleuth) as she tangles with gangsters, gumshoes and glamorous refugees from war-torn Europe. A zesty goulash of echoes from Hollywood's golden era. If that sounds like publicity department lingo, it's because I am still caught up in the spell of this fun book."
"Lights, camera and there surely is lots of action in this superb mystery set in Hollywood in the late 1940's. The glamorous and not so glamorous world of movies and the people who make them are brilliantly portrayed. Highly recommended!"
"A fascinating read. York has crafted a mystery about murder and movies, but also about America after World War II: the Mob, Nazi and Communist hunters, censorship, unions and cowboys. (What ever happened to Wyatt Earp, anyway?) Her discussion of the Hayes office and its rules will make you take a new look at movies of the era. (Good girls should not even hold a drink!) See for yourself. You'll love it."
"Love The works of Sheila York The mysteries are fantastic… Entertaining book."
"This is a crisply told, traditional mystery set in Hollywood of the late 1940's. I like this series a lot and am glad to see it continuing. It captures both the glamor of the setting and the ugly flip side. Heroine Lauren, a script doctor, reminds me of classy Old Hollywood dames – smart, independent, brave, ability to crack wise. Think Jean Arthur or Rosalind Russell, and go enjoy a visit to their world"